Go back a little and remember your first day in making an anime, remember your impression of the first anime you watched, remember your point of view about the first person you interviewed in an anime. Also, remember how much your bitterness has exploded from futile discussions about trivial things in that industry that you see in front of you on Facebook groups now and then. And remember how the foreign anime community was elegant and sarcastic humorously and funnily.
But this is if you are experienced in the field and have a long experience in it, but what if you are new to the industry?
Today we present to you a comprehensive guide to the anime world. What are the most important terms to know? What types of people will you deal with? How do you choose the next anime to watch? How do you put anime under the rating scale in general?
Now we invite you to save this article to a static file you have that you open frequently; we bet you will always need it!
What is the classification? What are the most critical categories in the ancient anime industry?
Classification is the professional category that anime generally falls under. Usually, anime works get four or more ratings according to popular rating sites such as My Anime List and IMDB. Where the anime contains a lot of ideas that make it fall under more than one category. And now, here are the most famous classifications to which most of the anime industry belongs:
Shounen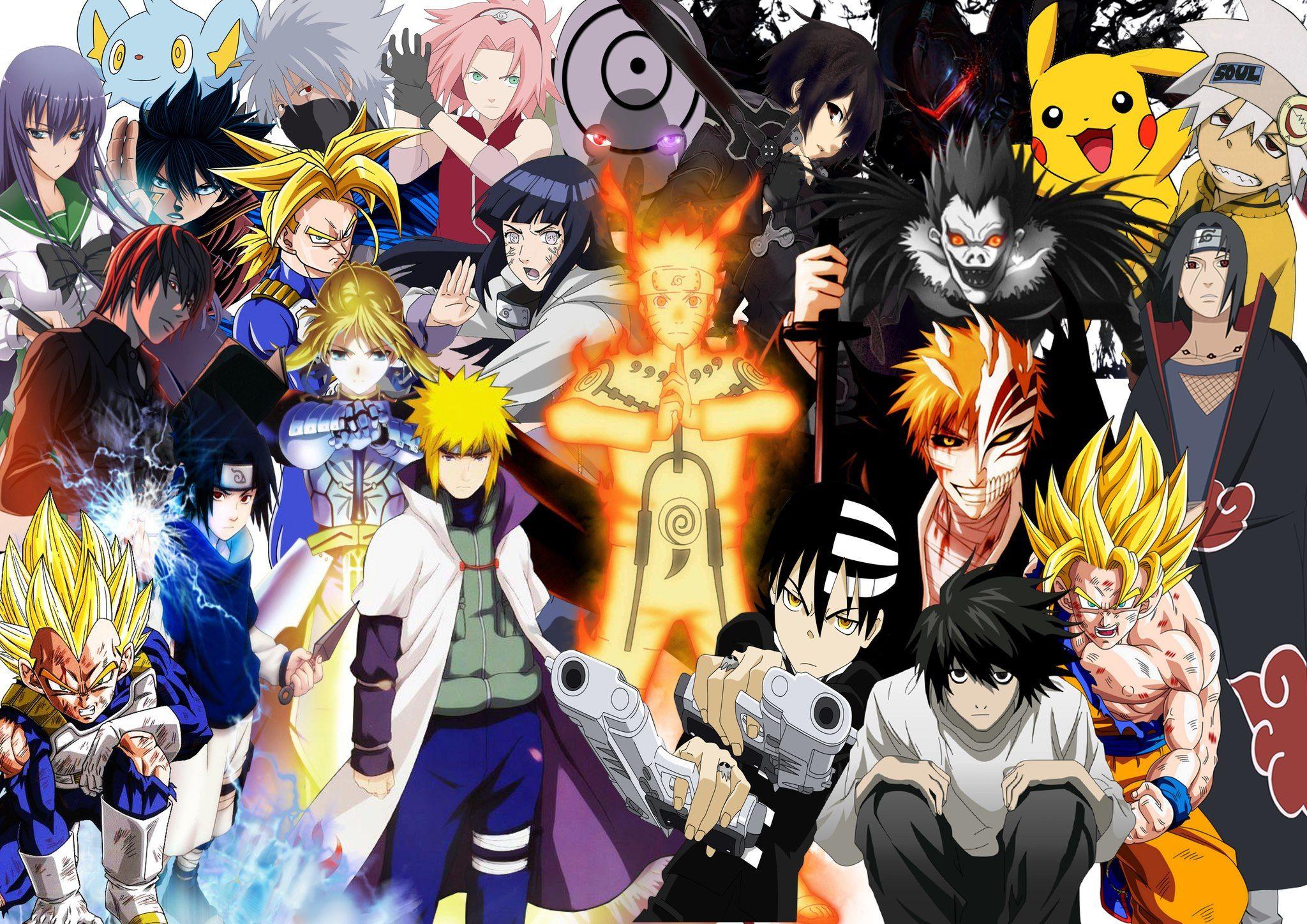 The word (shounen) in Japanese means a teenage boy. The works of that classification include heroes from the category of male teenagers, who usually adopt stories of adventures, street wars, and simple fights that the children of this generation deliberately fabricated from scratch.
Demon Slayer

This category is exclusively the most famous category until now in the anime industry. It includes the most well-known anime works such as Naruto, One Piece, My Hero Academia, etc.
Slice of Life
Do you know the movies or TV dramas? Same here.
Simply put, a (slice of life) category is a category that includes anime that discusses (aspects of life). Usually, these works are light and leave a smile on the viewer's face. They are still pretty sad and force the work-maker to place a category (melancholy psyche) alongside that category.
Food Wars

Most of the anime works of this classification are suitable for family viewing, as they can be classified according to television standards as (social) works that discuss society and its various issues such as love, human changes in adolescence, as well as the interaction of young people with parents in the current era and the impact of technology on that.
The most famous works of this classification are Hyouka, Toradora, and Ore Monogatari.
Fantasy and superpowers
These are two very popular classifications, and we deliberately mention them together because they are related to each other. Always when you find a category (Fantasy), you find a category (Super Powers). The classification of supernatural powers is loved by everyone. The studio innovates in making optical illusions in the fights until you can almost say that this anime is the embodiment of actual events on another planet. This is because Japan is not a single planet!
Fantasy is what gives the ground for supernatural forces to appear, these forces depend mainly on the capacity of the writer's imagination, and the only thing that ensures that there are no limits to that image is to make the plot a fantasy, that is, it does not depend on logic or the physical rules of the planet.
The most famous works of fantasy and supernatural powers are the anime Magi and Made in Abyss.
Made in Abyss

Based on what, we would choose the next anime out of thousands of different anime?!
Anime is a very vast ocean, and you cannot count the number of drops of water in it. Every year, more than 200 anime are released, and each anime is from 12 to 24 episodes if we say that it is short. That is, a year, you have more than five thousand anime episodes in total. What do you follow in light of this horrific artistic movement? It depends on several factors, which we will gradually list to you now, so pay close attention.
Continue the work of the same category.
Let's say you started your career in the world of anime and manga with the anime and manga Attack on Titan or the attack on the most famous giants of fire in the recent period. This anime belongs to the classification of bloody horror and the type of shounen because its hero is a teenager with ever-changing thoughts and intentions.
Now all you have to do is find out which categories it belongs to, go to the My Anime List website, search for all the anime works that belong to that category, and start reading the anime ideas whose names and propaganda attract you. And if you like an anime, congratulations on the next anime on your watch list, the dear passionate viewer!
Usually, the studio does similar works.
After you look at the rating, look at the studio that makes the anime you love. For example, we also have the anime Attack on Titan, whose studio is WIT. In general, it is interested in fantasy works with supernatural powers and epic combat. This is what is found in Attack on Titan, so you will find what satiates your hunger in this studio's work by extension.
But let's say that you started with the anime Death Note (which was my beginning); his studio is Mad House, which we adore. This studio is specialized in legendary works; you can't find a very genius anime unless this studio participated in its manufacture in one way or another.
The general character of this studio is: (creativity and uniqueness). And if you go into his list of works, you will find that he produced the 2011 anime Hunter X Hunter, which proves what we said about this beautiful studio!
The overall evaluation is also essential.
Enter the My Anime List or IMDB. You will find that anime works take changing ratings from time to time, based on the rating of ordinary viewers and seasoned critics rating. But don't be fooled by the overall rating; read the reviews!
Reviews are always the key, read the reviews on anime on those sites, and with the reading, you will get a general idea of ​​the anime if it is worth your time or not. There are terrible anime works with high ratings and vice versa. But sometimes, the high ratings are a reflection of the actual quality of the anime. The best example of this is the Fullmetal Alchemist Brotherhood anime, the first in the world in terms of rating. The more it drops to second place, the sooner it returns to first!
There is no easier way to follow the news, but the sure thing is that you should go to a reliable source of information. Of course, all the sources that we will talk about are electronic because it is a tiny percentage that you reside in Japan itself and watch Japanese TV in Japanese to know everything new in the world of anime. So, let's talk about some electronic resources in general:
There are dozens of news sites specialized in the field of anime, but here you must choose the site carefully. The choice of the site is due to its reliability, and the reliability is due to the source who is translating it. The site is trusted if it takes its news from the official pages of anime and manga production companies or weekly and monthly magazines and manga volumes such as the famous (Shonen Jump) magazine, for example.
The most famous anime news sites are Anime News Network, Crunchyroll, and My Anime List. They display news with reliability, but not as extensively as the first site.
How do I buy anime products?
Anime products are many and varied, including stickers, small and significant figures, bags, tapes, tools, accessories, decorative pieces, food, and everything you can think of.
But know that there are only available products in Japan, such as soda bottles with images of anime characters, for example, or Kit-Kate chocolates that have abundant flavours that are specific to Japan only and are not produced in any other country and that you cannot get. Except for those of you who are in the country or have a friend who lives there in the first place. As for all other goods, they can be obtained from online stores such as Amazon, etc.
For posters, in particular, you can print them in your home country and in the size and material you want, go to any advertising headquarters, and provide them with the image (or set of images) in high quality, and congratulations on your new posters!
What are the types of anime lovers?
The world of anime is quite impressive, but while it is fantastic, sometimes the people of this world can be annoying. Now we will review the types of people you will encounter during your anime career:
A character is more vital than another character.
This character compares any superhero (super strong, and there are no logical criteria to measure his strength or rate of development) to any other superhero (who has the same attributes). It is a logic-free comparison and is based only on the rate at which the characters scream or the follower's love for that particular character.
These arguments are empty, and there is no need to discuss them in the first place. We bring some popcorn and enjoy watching them fight each other in the comments of anime posts on Facebook. These are very heated battles and are also very comedic. The most famous sentence in this matter is (Saitama is stronger than Goku!!! No, no, Goku is stronger than Saitama!!!!!!).
This anime is trivial, and I do not follow trivial anime.
This character does not respect different artistic tastes. These people, in particular, have a unique philosophy for the world of anime, which is that it is a world that should present the bloody conflicts of the human soul, and not touch on fantasy and fantasy worlds. This is simply an understatement of the ingenuity of the human mind and the mere exploitation of followers by anime studios to earn money and develop a useless anime.
My advice, don't argue with these people either; you can never change their philosophy.
I wish the excellent anime era were back.
This is someone who curses everything new in the anime industry and sings about everything old.
For them, the new computer-based anime industry has lost its realism. It has become a mere (trade) that seeks to make money rather than a sober art that seeks to present societal problems and solve them with a mixture of seriousness and play. Therefore, they hate any contemporary anime work. Even if its ratings are very impressive and ranked first in the world, it remains for them a miserable anime that should not be watched because it destroyed the anime industry and overshadowed old works better than it!
This anime is terrible for no logical reason.
Of course, freedom of opinion is guaranteed to everyone without discrimination. Still, the illogical response of people to criticism directed at them is what causes blood pressure to rise in many.
Let's say you're browsing Facebook and you're happy and in a good mood, and suddenly you see a post that says, "Fullmetal Alchemist Anime is terrible." This anime is the number one anime globally according to our Anime List ratings, so he has very logical reasons for someone to say that!
And when you ask him why he says I wouldn't say I like it. There are well-known evaluative elements like characters, drawing, animation, directing, story sequences, etc. To throw all those items out the window and say it sucks just because you don't like it doesn't make sense. This is a freedom guaranteed to you, but please do not say that your reasons are logical; these are purely personal reasons and do not belong to art criticism. Don't darken good deeds without giving good reason.
Let's have a reasonable discussion.
We intended to make this category the last in the categories you will find in the anime community. This is because it is the rarest category among them, and it is almost non-existent. And do not expect any (admin – admin) of an anime group to be in that category. Most of them do not care about discussion as much as they are interested in likes, shares, and interaction.
But if you are fortunate and get involved with one of these people in a passing discussion, try as much as possible to deepen the dialogue and practice all kinds of civilization and intellectual sophistication with him.
Want one last tip from me? Try to add this person to your friend list and have been friends with them for life. It is a rare coin that will not be repeated easily!
Three episodes rule
That's the last thing we're going to talk about today, guys: the rule of three episodes.
The obvious thing that is going on in the mind of any serial follower in the world is whether we can leave the series or continue?
Suppose you watched an anime that you did not like, the first episode of it. Is the first episode a measure to leave the artwork and go to others to not waste valuable spare time? Actually, no, my dear, one episode is never enough, which is why the three-episode rule was invented.
You need to watch at least three episodes of the artwork to form a vision in which you can judge the anime if you're going to finish it or not. In those three episodes, the plot appeared, and the ground of the artwork was narrated peacefully. The story begins to escalate from here. If it does not escalate, you can leave the anime for then.
Tags:
Anime
,
Anime culture
,
Anime world